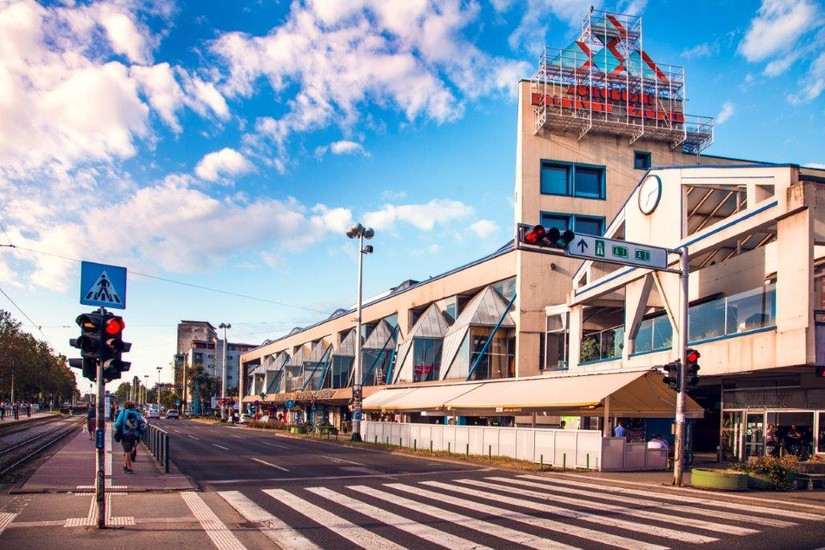 Bus
Great, Zagreb's modern bus station has a large waiting room, where you can rest comfortably while waiting for the bus (however, it is not heated in winter). Signs at the station are in English, and the people working in the information also speak English. Most tickets for international routes can be purchased at counters no 2 i 3, and at Croatia Tourist you can exchange money (and traveller's checks). The luggage room is open 24 hours a day (Caution: the fee is calculated from the hour).
There are buses from Zagreb to most Croatian cities, Slovenia and other countries. Tickets for further routes should be purchased in advance at the station.
The following national buses depart from Zagreb: to Bled (200 km, 4 daily), Dubrovnik (713 km, 5 daily, 25 $), Dill (253 km, 5 daily), on Krk (229 km, 3 daily), to Lubiana (135 km, 5 daily), Maribor (122 km, 9 daily), Piranha (273 km, 1 daily), Poreč (264 km, 5 daily), Portorož (268 km, 3 daily, 8 $), Puli (283 km, 12 daily), to the island of Rab (211 tan, only pt.), to Rijeka (173 km, 21 daily), Rovinj (278 km, 8 daily), Split (478 km, 19 daily), Varaždin (77 km, 27 logs), to the island of Mali Lośinj (298 km, 1 daily) and to Zadar (320 km, 14 daily).
Connections to Sarajevo have been resumed (1 daily, 417 km, 57 $) and Medjugorje in Bosnia-Herzegovina (4 daily, 420 km, 25 $).
There are buses to Hungary from Zagreb to Nagykanizsa (145 km, 2 daily, 10 $) i do Barcs (4 daily, 202 km, 16 $). Better to go to Nagykanizsa, if you are going to Budapest or Lake Balaton, a do Barcs, when you go to Pecs. There are also international buses to Vienna from Zagreb (371 km, codz. O 6.00 i 21.30, 35 $), Munich (576 km, 2 daily, 50 $), Sedan (wt., sb. i nd., 159 DM, payment only in German marks), Amsterdam (2 for a week, 124 $) and Istanbul (1 for a week, 90 $). You pay for one piece of luggage 3 DM in cash.
Train
The Maestral express train runs from Zagreb to Budapest every morning (412 km, 7 at, 28 $). Adńatica runs at night. Ticket from Zagreb to Nagykanizsa, the first major railway junction abroad, it costs 10 $. You can also take a train to Koprivnica or Varażdin, and then take a local train going from these places to Hungary. There is a train from Zagreb to Pecs every afternoon (267 km, 5 at, 18 $).
Zagreb is on the trains Munich-Ljubljana and Vienna-Maribor. Between Zagreb and Munich (via Salzburg) run 2 trains a day (613 km, 8 at, 69 $). Three trains a day arrive here from Venice (7 at, 28 $), and one of them drives carriages from Geneva and Rome.
Trains run from Zagreb to Osijek (5 daily, 288 km, 4,5 at), Koprivnica (20 daily, 92 km, 2 at), Varaždin (11 daily, 110 km, 3 at, 4 $), Popular (6 daily, 160 km, 2 at. 15 min), Rivers (4 daily, 243 tan, 5 at) and to Pula (2 daily, 418 km, 5,5 at). There are also trains to Zadar (11 at, 14 $) and Split (10 at, 13 $) stopping in Knin.
Seat reservations are required on some trains – it must be checked in advance. You should also be careful when buying a ticket – there are cases of inflating prices at the ticket offices.
Half 1991 r. all rail connections, road and air services between Zagreb and Belgrade have been suspended, and travel between these cities was possible all around, through Hungary. This situation has changed and it is now possible to travel from Zagreb to Belgrade both by car, and by rail. A visa is required to cross the border with Yugoslavia, which is best arranged before the trip at the Embassy of Yugoslavia in Warsaw.
Communication
Public transport ensures dense, but a heavily overloaded tram network. The city center is compact enough, so that almost everywhere can be reached on foot. Trams #3 i #8 they don't run on weekends. Tram tickets (0,70 $) can be bought at newspaper kiosks. For one ticket you can ride different trams through 90 minutes, but only in one direction.
Daily ticket (one-day ticket) is valid on all public transport to 4.00 in the morning of the next day. You can buy it for 2 $ at the ticket kiosk (shop card) in the underground passage next to the train station. If the kiosk was closed, Tickets can be purchased at most Vjesnik or Tisak kiosks throughout Zagreb. At the bus station, there is a newspaper stand at the entrance to the platforms, which also sells day tickets.
From / to the airport
The Eurokont bus leaves for the Pleso airport (17 km southeast of the city] from the bus station every half hour, from 4.30 do 19.30 or later, if there are flights (3 $).
Taxis
All taxis in Zagreb are equipped with meters. The initial fee is 3 $, and for each 1 km of driving 1,10 $. On Sundays and at night from. 22.00-5.00 the tariff is higher by 20%. You pay for waiting 8 $ for an hour, for luggage 0,25 $.
Car rental
Europcar (Varśavska 13, tel.271469) offers the lowest rates (from 27 $ a day plus 0,27 $ per km or 442 $ for a week without mileage restrictions). Other companies include: Budget Rent-a-Car (tel.4562221) at the Sheraton Hotel, Avis Autotehna (tel.172133) at the Inter-Continental and Hertz hotels (tel.442423) located next to the same hotel, at Krśnjavoga 13.